Welcome
aconica is a design studio for audiovisual communication based in Berlin, Germany. Our focus is on communication through sound, design and technology. We conceive, design and produce projects in the fields of interactive, sound + media design, media-enhanced scenography, multi-sensory marketing, sound branding, digital music and classical communication: linear, generative, reactive, interactive.
What we do
Consulting
At the start of every project we undertake a conversation with the client. Consultancy means for us above all dialogue and exchange of information. When we operate as a consultant we don't just want to put across our competence, share experiences and make suggestions, rather it is first and foremost about hearing the specific requirements and wishes of our client. Lets talk!
Design & Brand Sprints
We also offer product design, strategy and innovation consultancy. We help leading companies quickly create and validate new ideas and solutions using Design & Brand Sprints. Sprints are a proven methodology that helps organizations quickly develop new, creative and validated solutions to problems that would ordinarily take months to solve.
Creation & Strategy
The goal defines the route. With your requirements and information we develop a well thought-out concept with enough room for creative ideas. We offer you a wide selection of services and possibilities to bring you safely to your goal – creatively and successfully.
Sound Design & Music
aconica shapes sounds and music for the media – be it film, audio-guides, video games etc. Additionally we follow new kinds of conceptional strategies for companies and products. For example, the use of acoustically supported navigation, acoustic elements within brand communication (corporate sound) and from feedback sound to function indicators (mobile devices, orientations systems etc.). Our know-how, rigorous execution and strong conceptional penetration guaranty our clients a certain distinctiveness.
Sound Branding & Advertising
From pure sound to acoustic brand. Sound Branding is a new instrument in the orchestration of marketing communication, an instrument that wins over new listeners to a brand and anchors itself in the memory of the target market. Music, language and sound are among the strongest tools available in marketing in order to provoke moods, emotions and feelings. The more channels of communication a brand has open, the greater the need for advice and conceptual unity. We conceive and design for you a structured process for the acoustic appearance of your brand with a view to maintaining an aesthetic connection to the cross-sensory appearance of the product.
Media-Enhanced Scenography
We create multi-media installations and concepts for a specific space or context. The design possibilities for installations are many and varied. Many factors must be taken into account for an exhibition to be successful. This applies to artistic work as well as to commercial scenarios such as sales rooms or business premises, trade fairs and multi-media events.
UX / IX / IA / UI Design
aconica designs dynamic relationships between people, spaces, objects and user interfaces of any kind. The focus is always on shaping content including designing communication and interaction processes so as to make them accessible to the user. Clear and effective concepts are essential for the success and realisation of a product in the international market. This is also the case for context sensitive solutions which provide the user a safe and pleasant interaction with the product. We apply our knowledge and experience in this field in order to offer functional solutions with aesthetic value.
Teaching
Through tuition we aim to pass on skills and knowledge, be it in a classical teaching context or via compact workshops. With a wealth of experience in active teaching and the conception of tutorial programs we would hope to make our contribution to the quality of audiovisual design.
Research
aconica is interested in active research in the field of sound and visual design. Time and time again our concrete work brings us in contact with research facilities where we are often called upon as external consultants. Thus far we have already completed experimental research in the areas of function and product-sound, user experience design, brand communication through sound and sound design, either independently or in collaboration with companies or universities. We always look forward to ambitious projects and participation in research projects.
Services
aconica offers customized solutions and project support from the first sketch of an idea through conception, design and realization on to documentation and support for the finished product. We see ourselves as a competent advisor, concept developer, producer and researcher whose task it is to gather all relevant parameters to develop solutions which integrate seamlessly into the production of a product and its world of experience. Quality design, as we understand it, becomes apparent though more than mere beauty and elegance. Aesthetics and functionality are not mutually exclusive, rather they define the success of a media project or product. What is more, we are continuously developing effective working and research methods which allow an efficient and high quality of design throughout the course of a project. For this reason we are also in close ongoing contact with research facilities, universities and artists so as to integrate new developments, research findings and trends into our service.
Testimonials
Niklas Jansen – Co-Founder and Managing Director at Blinkist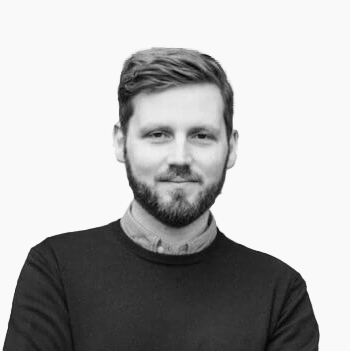 Martin Backes and his studio aconica brought a well-thought-out process to the creation of our Audio Brand. He carefully directed every step along the way, in order to create a unique sonic identity together with us, and even further, to support us in the process of becoming an audio-first company. His methods and strategy are specific to the smallest detail, which helped align the stakeholders and arrive at an audio identity that will further build the brand's power. Martin has been super professional throughout the process and provided great value through his creative and unique solutions. In the end, we were even awarded the German Design Award for this project. We highly recommend him and his company as a strategic partner.